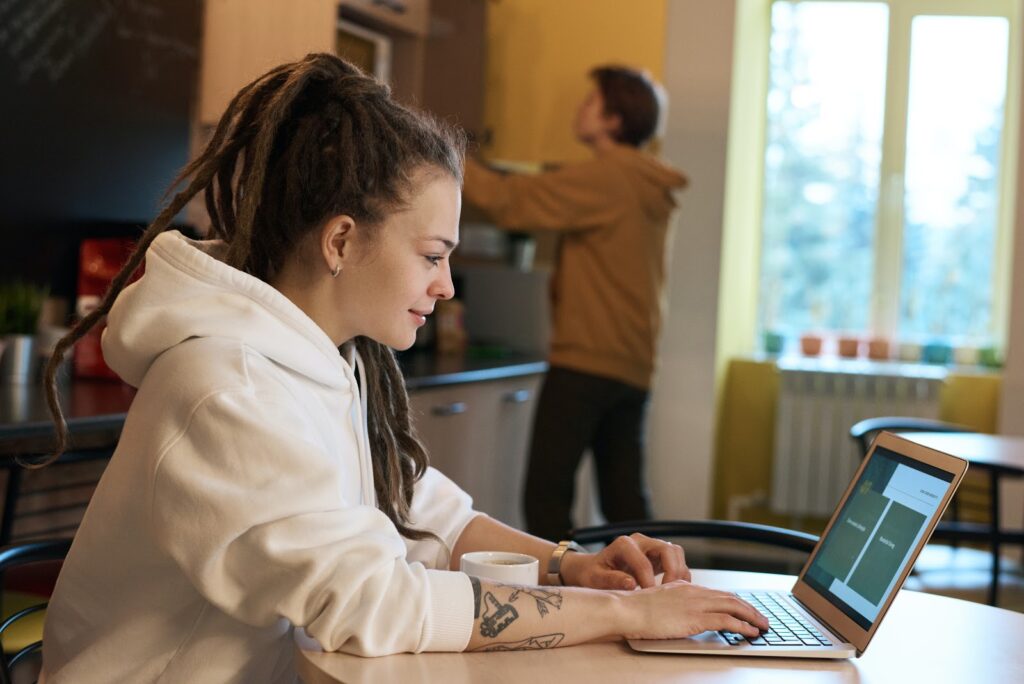 Work from home. Great. Freelancing sounds like a merry ride, right? No one bosses you around, you work at your convenient space, you take breaks when you want to, and so much more you can't do in an office space. Except you have put on these shoes, you may never know the real challenges faced by freelancers working from home. With the turnout of events in 2020, many individuals and companies have adopted remote work. 
As 2021 approaches, there is an increase in demand for useful tips for settling into what is slowly becoming the new normal – freelancing. This article is written based on the experiences of a vast number of freelancers that have been working from home. You can also apply them daily while taking on freelance jobs.
Ten ways you can pull through as a freelancer in 2021
Set up a dedicated workspace
You should dedicate an area for work that you can transform into a permanent or a makeshift office for a start. If you don't have sufficient space, you can temporarily set up a part of your home to look like a work area. Regardless of your choice, having a dedicated workspace helps you lose the good, comfortable feeling of being at home, thus creating an air of seriousness and urgency.
Achieve organization using a time tracking tool
Speaking of accomplishing long term goals, freelancers are familiar with deadlines and rush hours. With time tracking tools, you can beat deadlines and deliver great jobs without feeling the heat of rush hour. These tools can help you allocate time to various tasks depending on their order of importance. However, alarm clocks may seem to be manual and require a lot more to help you stick to a plan. This leaves time tracking applications like Timenotes as the more reliable option as it can do more than help you stick to time.
Plan and prepare
It is typical to find freelancers sleeping off while in the middle of a task or distracted with fixing minor faults because they were unprepared. Having a good sleeping pattern, exercising regularly, and eating healthy meals would help you stay awake and active when it is time to work. Minor factors like the lighting, furniture, and room arrangement can turn out to be a big deal to your work.
Dress up
We all know this sounds exaggerated, but it's true. Just like you would not show up at an office complex with pajamas, don't move to your dedicated workspace with your nightclothes. Shower, put your hair together, wear neat and comfortable clothes that do not have to look official. This way, you can naturally transit and blend into your workspace and time.
Define your working hours
One of the perks of working from the comfort of your home is the freedom to assign a flexible timeframe for work. No, don't give in to the temptation of assigning a brief time frame for work. It will cause you to become less productive and more destabilized. Defining your working hours should be based on your workload and schedules. It should also be a time that works best for you.
Create a to-do list
Have you ever felt the ecstasy of ticking off the tasks on your list of things to be done? You must have certainly felt fulfilled knowing the number of things you could do within a time frame. People working without supervision need to have a to-do list that prioritizes tasks. Sticking to this list might be challenging, but it helps accomplish long-term goals by breaking them down into simple stages. If you cannot trust your discipline level, then we strongly advise that you employ a daily activity report app to enjoy a more productive working time frame.
Let Everyone Know
The importance of letting people around you know about your work routine, space, and schedule are immense. They will most likely automatically adjust to your new routine and give you room for your work without becoming a source of distraction or causing conflict. Freelancers may face the challenge of having kids or pets run into their workspace to mess things up or distract them during working hours. It might be difficult to let them know about your work routine, so the solution might be to engage them in things that can keep them distracted while you work.
Take Breaks
You probably can't imagine having to take a break in the middle of a task with its deadline drawing closer as the clock ticks. If you have carefully followed our suggestions so far, you will hardly have to be in such a hurry to meet up with a deadline. It may interest you to learn that making out time to have lunch, stretch, walk, chat, or relax your mind from work activities is a significant factor for boosting productivity.
Master yourself
Every individual is unique and has the responsibility of understanding and mastering their uniqueness to know what works best for them. For instance, you may be uncomfortable working while loud music is playing around you, but that might be another person's secret to getting things done with ease. Knowing what works best for you is not a spontaneous decision that anyone reaches immediately. It is a gradual process of learning about yourself, and the interesting part of it is that you are prone to changes and adjustments.
Deliberately build networks
One of the cons of working from home is that it reduces your chances of growing your network. Now that you know that this can come as a challenge, you must deliberate about it if you are interested in having a larger social network. Select a favorable time to meet with colleagues, friends, and family members. This can help you become accountable to other people and even take away the feeling of loneliness.
Conclusion
With that said, you would agree that working from home can turn out to be even better than working in an official space when you implement the right approach. Are you new to freelancing? Please share with us some of the challenges you have faced with working from home. Have you been into freelancing for a while? We would love to know about some of the best parts of your job and which of these tips helped you pull through in your early days.
Author's BIO: Lori Wade is a journalist from Louisville. She is a content writer who has experience in small editions, Lori is now engaged in news and conceptual articles on the topic of business. If you are interested in an entrepreneur or lifestyle, you can find her on Twitter & LinkedIn. She has good experience and knowledge in the field.