We have gone beyond the point where utilizing the latest technology was limited to large corporations and businesses with astronomical budgets. Furthermore, the Covid-19 pandemic resulted in restrictions in various industries on their daily performance, causing companies, independent of their size or sector, to seek out online alternatives, keeping up with the latest digital transformation trends.
This article enumerates the ten most notable digital transformation trends gaining momentum right now. Some of them might sound familiar, as they have been developing and improving for a long time.
Due to the fact that most will soon be ready for application by companies and will be taking over the center stage in 2022, we, Red Beach Advisors, will help analyze each one separately and clarify how these digital transformation trends can impact your business in the upcoming years.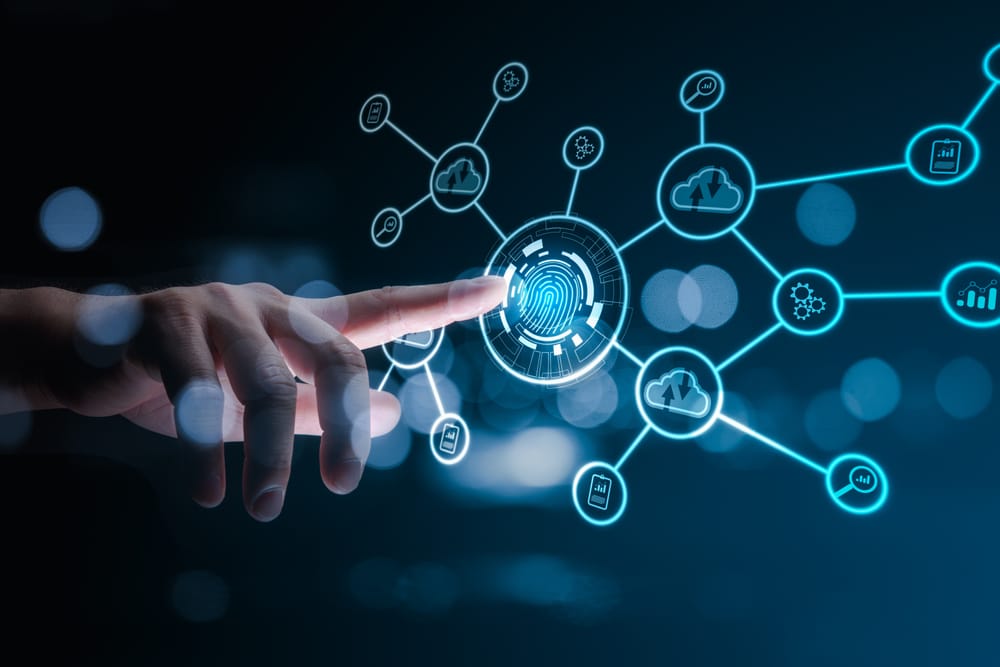 What Is Digital Transformation For Your Company?
Before moving forward, it's essential to understand what digital transformation implies and its significance for your company, as well as to learn what a successful digital transformation strategy is and how to employ one.
What Is Digital Transformation?
Digital transformation presents an opportunity that can change how companies and organizations operate, as it arose out of the progress and development of new technologies.
Here, it must be emphasized that this does not mean a technological change within the organization alone. Instead, it implies a turning point for individuals, empowering and encouraging them to develop different skills that can positively reshape their company.
Why Does Digital Transformation Matter?
From the smallest local companies to the large multinational organizations, one thing is certain: digital transformation is crucial for each business regardless of its size.
It is a beneficial change that motivates organizations to continually challenge themselves in integrating new digital technology across all business sectors.
Some key benefits of digital transformation include:
Improved Efficiency. One benefit of digital transformation is efficiency and productivity on account of streamlining workflows, improving data flow and digitizing business operations.
Improved Agility. With increases in automation and enhanced productivity comes greater agility. However, it's solely developing a digital strategy that allows businesses to become agile within projects and practices.
Increased Customer Engagement And Satisfaction. Improving customer engagement and fulfillment is one of the most important goals of digital transformation. When executed correctly, you'll start seeing advancements in two different areas. Firstly, digital transformation improves the customer experience. And, secondly, it provides more customer insight.
Increased Opportunities. There are plenty of possibilities, but so there are competitors. Developing a digital transformation helps you recognize and address changes and challenges and leads you to a better position so that you will be able to take advantage of opportunities coming your way.
Improved Profitability. Lastly, what happens when you operate more efficiently with more opportunities, increase agility, and improve your customer's impression of your company? The fact remains that digital transformation will transform your entire firm. Just as well, when implemented correctly, will significantly improve your overall profitability.
Successful Digital Transformation Strategy
While thinking of different examples similar to how Uber changed the entire taxi industry, Netflix replaced many cinemas worldwide, how Amazon hit the retail market, how the governments are now legalizing self-driving vehicles, you can't help but notice that these revolutionary developments show the practice of improvements.
And when looking at the successful stories, you often get interested in the recipe for such comprehensive global transformation.
Many companies worry whether investments in modernizing operational methods will result in more significant income and eventually profits. As a result, companies start the change process, but few consider a transformation rooted into reality, which is more likely to bring a return.
A digital transformation strategy starts with answering fundamental questions such as what, why, and how. This is a strategy that builds bridges between the current situation and the desired long-term plan.
A digital transformation strategy is an important document detailing your business goals and digital initiatives. With that in mind, it is essential to follow a few steps.
Business Assessment. A detailed assessment of your current business is a good start for your digital transformation strategy. This initial evaluation should include your strategic aims, key performance indicators, and potential expansion opportunities.
Prioritize Digital Initiatives. Every digital initiative will be different in area, resources, and return-on-investment. Therefore, it's wise to prioritize your initiatives based on their value, impact, and estimated effort.
Create A Delivery Plan. The delivery plan should cover a roadmap for every digital initiative, resource requirements, and guidelines for measuring the outcomes.
Create A Budget Plan. Most digital transformation efforts fail because of lacking budget increases. So when you create your budget, try to predict the obstacles and plan for when new technology makes your current investments out-of-date.
Create A Resource Plan. As technology is not your only expense, it is essential to assemble a team with the right skills and mindset to achieve your strategy.
Digital Transformation: Brief History
The history of digitization and digital transformation goes way back further than what you may assume. Digitization first started as far back as 1679 when Gottfried Wilhelm Leibniz explained the first-ever binary system. Then, in 1847, Boolean algebra which, was used in mathematical analysis to study the universal spread and adoption of computation, was introduced by George Boole.
As time went by and the digital revolution began, a significant milestone was achieved in the digital world. The first-ever digital voice transmission technology known as the SIGSALY was invented. This technology was adopted, particularly by the troops, to secretly and efficiently communicate with fellow allies during World War II.
In 1948, Claude Shannon, the author of the paper "A Mathematical Theory of Communication," described modern digital communications and information theory, explaining the shift from analog to digital technology.
In the 1950s, the microchip and the semiconductor transistor were invented, enabling a change from analog computing to digital. Then in the 1960s, The first message was sent over ARPANET, also Gordon Moore hypothesized that the computing power would double every year.
The World Wide Web was introduced in the 1980s, and in the 1990s, it became publicly available. This is also the period when the 2G network was introduced.
In 2010 the digitalization of existing analog and manual systems was nearly complete, and the next revolution began, called digital transformation. It's an effort to alternate how a company uses its resources to drive new business and revenue.
In the following years, the first digital transformation projects started to show success. The first radical changes through innovation were caused in Media, Telecom, Technology and Financial Services. Next, the budgets for digital and software solutions increased, and the operational methods for many industries were transformed. As a result, in 2018, the global digital transformation market size was valued at $320 billion.
From the arrival of Amazon to social networks to the most recent inventions in robotics and artificial intelligence, companies have been modernizing their ways for more than 30 years. All this is an attempt to adapt to the new digital age opportunities, evolving and developing constantly.
5 Biggest Technology Trends To Get Ready For In 2022
In 2022 the covid-19 pandemic will still be here and will continue to affect our lives in multiple ways. Consequently, we will continue seeing businesses and society accelerate their digitization and virtualization.
One of the many important lessons of the last two years has been that transformative change isn't as challenging to implement if the needed motivation is there.
With that in mind, several technological innovations, from artificial intelligence to renewable energy, are set to expand their markets by improving accessibility and functionality for a wider audience.
Artificial Intelligence
Artificial Intelligence will be involved in many industries, including healthcare, cybersecurity, production, and autonomous vehicles.
Smart cars use facial recognition algorithms to detect whether we are paying attention to the road or are alerting us if we're getting tired. Smartphones use AI algorithms to do almost everything, from maintaining call quality to helping us take better photos. Even smart toilets are on their way, and they will be capable of examining stool samples, using computer vision to diagnose gastrointestinal issues.
AI will become increasingly popular and required as organizations start to automate their working processes and improve their productivity.
Medical Robots
The digitalization of machines that can assist humans with precision and performance is adopted in many industries, including the medical field. Medical robotics can lower the risk of infection, medical error and malpractice.
The increased usage of robotics and telemedicine in healthcare is accelerating with the Covid-19 pandemic. In addition, both technologies can aid in social distancing, which reduces the percentage of healthcare-acquired infections for both patients and health care workers.
Cloud Computing
Innovative resolutions continue to arise in the cloud computing space, and 2022 will be no different.
Businesses, independent of their size, are likely to create more hybrids of public and private clouds. In addition, more companies will adopt multi-cloud strategies to combine services from different suppliers since it presents greater flexibility in accessing content, processing data and executing numerous tasks, allowing your company's data to become more secure and accessible to your staff.
As a result, companies that have integrated this technology have encountered fewer obstacles and have minimized the effects caused by the pandemic.
Virtualization
Virtual offices won't disappear after the end of the Covid-19 pandemic. On the contrary, employers and employees saw that there is a better way to manage companies. As a result, offices without a location will be a big deal in 2022.
However, as things currently stand, face-to-face social interaction is still an important aspect of work culture. As an outcome, integrated workplace virtual reality solutions and virtual collaboration tools will rise in the industry.
And, it doesn't stop with offices. With more virtual learning solutions, institutions can offer more programs to international students. It all leads to a point where students will have a choice to study from home permanently.
Renewable Energy
Renewable energy remained the only form of energy that saw an increase in usage during the pandemic. In addition to that, climate change and the failing costs of generating sustainable energy are accelerating the adoption of this type of energy.
While newer energy technologies like nuclear fusion, biofuel, and liquid hydrogen may still not be ready for mass consumption, we'll see severe advancements in the following year.
10 Digital Transformation Trends For 2022
The business environment is rapidly changing as digital transformation trends are becoming influential in this digital age.
This article will be a great asset in discovering the digital transformation trends defining 2022 and how you can utilize them to improve your company.
5G Is Here To Bring New Business Opportunities
In the modern-day world, working from home has become the new normal. As a result, businesses are introducing new effective methods to manage their working process from remote locations. Consequently, the 5G network will replace or extend the current 4G LTE network to support wireless connectivity.
Since 5G offers minimal latency, it allows for dense installations and improves mobile connectivity. In addition, it provides an exceptional gain in speed, much quicker than the past generation could ever expect to reach.
Companies Will Turn To Multiple Cloud Systems
On the grounds of security reasons, companies will realize that using only the public or private cloud isn't the best option.
Each type has its advantages and drawbacks, and that's why organizations may require something provided not by only one source. Likewise, the number of companies that will jump into multiple cloud systems can only grow for the same reason.
The Work From Home Will Continue In 2022
No one is fond of a trial run, but Covid-19 has accelerated changes previously adopted by not many industries. Further, it urged companies to explore creative digital solutions to continue functioning remotely and serve their clientele.
Although the sudden transition to 100% remote work hasn't been simple for many businesses, the shift has been far more manageable for those who had previously invested in digital transformation.
There appears to be a considerable amount of agreement about the general aspects of post-pandemic work.
While fewer organizations want to return to most employees being in an office most days, many expect to develop a hybrid model. Additionally, there is a growing possibility that many employees will create a global talent pool for employers to choose from by offering their services remotely, eventually disrupting the current hiring methods.
Quantum Computing Will Make A Huge Difference
The theory of quantum mechanics is radically different from the laws of nature commonly accepted as fundamental truths. Moreover, it is full of illogicalities and absurdities, such as the theory of superposition which is often explained in terms as particles being "in multiple different places simultaneously."
The idea that humanity could use these complex laws of nature to develop technology that can solve problems beyond the capacity of "normal" computers created the concept of a quantum computer. These computers can rapidly explore an enormous variety of possibilities and identify an optimal solution that could drive business value.
Quantum computing has the potential to transform specific industries at their core. For instance, computers cannot solve precise equations, so current computational chemistry methods rely upon approximation. But, quantum algorithms are expected to deliver accurate simulations of molecules over longer timescales, currently impossible to model precisely. This could enable life-saving medicine findings and significantly shorten the time required to develop pharmaceuticals.
Automation Will Enhance Digital Transformation
It is usual to have automation and digital transformation coexisting. When one is adopted, the other follows. Therefore, by automating more of their operations, companies will increase the rate of digital transformation.
With Covid-19 still here, it gives the businesses another reason to place greater importance on automation than ever before. Business managers will be required to follow automation methods to keep their companies up-to-date and smoothly run business operations.
Low-Code Development
Software engineering is becoming more simplified with a new approach to developing apps known as low-code development. It's a tool that can help enterprises improve customer experiences and operational efficiencies.
Low-code platforms enable almost anyone to build software without traditional coding. Instead, it's done by graphical user interfaces and setup. Such programming tools have a lot of potential since they allow users to convert their ideas into digital solutions with little or no experience.
2022: The Chip Shortage Year
The pandemic has encouraged the development of various technologies, resulting in high demand for chips, making 2022 the chip shortage year. From cars to mobile phones and computers, there has been and will continue to be a significant delay in the production time for every product on the market.
Intel, GlobalFoundries, Samsung, and TSMC have all announced an investment of billions of dollars towards building new factories to reduce production time. As a result, 2022 will be a crucial and challenging year for large chip companies such as NVIDIA, AMD, and Qualcomm.
The Number Of Online Business Models Will Grow Rapidly
Businesses worldwide are exploring additional revenue streams. As a result, new online business models, either complement existing ones or functioning as entirely new, start to emerge.
Companies looking to grow in 2022 will have to think creatively and employ creative strategies that will put them in the forefront of change.
These new models are driven by flexibility from changes to governmental and organizational policy and regulations due to the pandemic. A further factor is introducing and running digital channels such as content marketing which are currently helping businesses scale faster than ever.
Cybersecurity Practices Will Improve
COVID-19 forced many businesses into investing in computer equipment and technologies to protect information assets and maintain their work. In addition, the crisis has changed customers' consumption habits, the way of work and the place of work. As a result, companies will have to adjust to the new reality by modifying their business strategy.
Cybersecurity will continue to be the leading external concern for businesses in all industries worldwide. Cybercriminals can steal and use your personal information, even sink your entire operation if you reveal vital data.
Businesses have become more exposed to destructive attacks on account of the pandemic's move to remote workers. Facebook, Volkswagen and Audi, Microsoft, and several other well-known corporations have been the victims of cyberattacks this year, 2021
Supply Chain Digitization
Data-driven processes made it possible for companies to adopt a more predictive, well-organized, and proactive approach to face today's commercial and societal challenges. As a result, digitalization benefits have streamlined production, logistical, and consumer services among many leading retailers worldwide.
In 2022, businesses should begin the digital transformation process to see the benefits of sourcing automation, shipment and payment automation, supply chain performance insight, enlightening customers and ensuring consistent efficiency. As might be expected, many challenges will remain, yet the advantages outweigh the difficulties and aim for a stronger market position, never even hoped to be achieved any other way.
Conclusion
With the vaccination happening at an increased pace and new questions about the post-pandemic life arise, digital transformation will continue to contribute a great deal to the ongoing management of the pandemic and the adaptation of its inevitable consequences.
Utilizing the latest digital transformation and technology trends can help your business develop a more customer-focused approach. Of course, it is impossible to catch up with all the innovations in the technological world. Still, it's best to follow the ones that bring the most significant benefit. Thankfully, there are various options to choose from.