Customer service is by no means easy. Managing this part of your operation can be immensely challenging. Your team must strike a balance between solid technical knowledge and perfect communication skills to deliver the very best customer experience. At Red Beach Advisors, we believe customer experience is something that should be continuously refined.
Exceptional customer experiences are the fuel driving the growth of your business. If you can continuously raise the bar with your customer service, your firm will begin to see reduced churn and increased customer advocacy. Optimizing the delivery of customer service and support is a never-ending process. These things cannot be solved overnight.
In this guide, we are going to be diving into 5 customer service tips for professional services firms. There is no better time than the present to simplify your customer experience. If you're feeling overwhelmed by the challenge of fixing your customer service operations, these tips should help you to find a much-needed sense of clarity and focus.
Do not have time to read the full guide? Here are our 5 essential customer service tips for professional services firms:
Leverage Emotional Intelligence In Conversations
Consider Using Positive Language
Deliver Clear & Concise Responses
Solve Problems For The Customer
Utilize The Right Customer Service Tools
These are also relevant to those working under a shared services model. Without wasting any time, let's dive straight into explaining the individual importance of these business tips.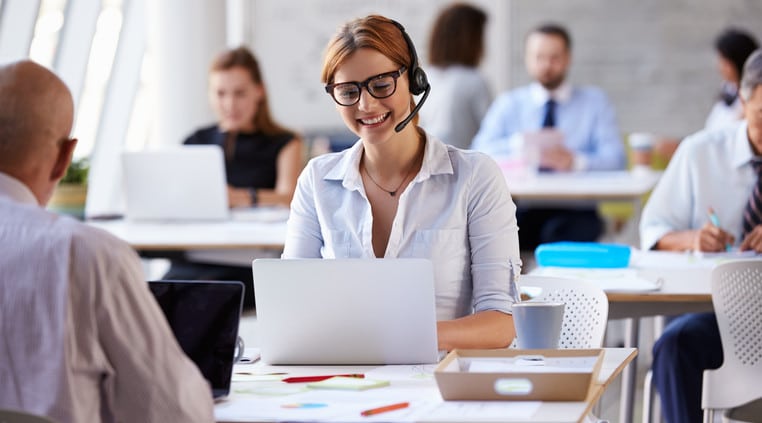 Leverage Emotional Intelligence In Conversations
Customer support representatives must learn and appreciate the value of emotional intelligence. This is a skill that is all too often overlooked in customer service training. Mastering emotional intelligence enables you to interpret and decipher the complexities of other people's emotions. This will enable you to respond to them in an effective way.
For instance, we've all come across customers that are more insistent and less patient than others. How you choose to respond to these customers can determine the direction of the relationship. Fortunately, with strong emotional intelligence, a customer support assistant would be able to recognize that these customers often have immediate needs.
Consider Using Positive Language
The tone of the language you choose to use in conversations with customers can be a total game-changer. We encourage you to focus on using positive language in conversations with customers. This can help to improve the overall customer experience and demonstrate your team's ability to stay focused on and committed to meeting customer needs.
For instance, if a customer has stumbled across an issue with your professional services, you should reassure them that the problem is easy to resolve. This will provide your customers with peace of mind and help them to see the situation in a more positive light. It's important to note that this is not the same as trying to play down the issue they're facing.
Deliver Clear & Concise Responses
It can often be challenging to recruit customer support professionals that have expert-level technical knowledge and exceptional sales skills. These are certainly a rare breed of people. You should not underestimate the importance of hiring customer service representatives with a tremendous technical understanding of the professional services you are delivering.
These people are going to be well-equipped to answer customer queries in a clear and concise manner. This is vital for providing customers with a sense of clarity around specific issues. There is nothing more frustrating for a customer than trying to deal with uninformed and poorly trained support representatives. With the right professionals, this can be addressed.
Solve Problems For The Customer
What problems is the customer facing? How can you solve these problems? Those are the questions that your team must ask themselves. They must be looking for long-term solutions that will foster customer success. While it's important to maintain a consistent dialogue with your customers, they should not be coming back to you with the same issues again and again.
Rather than looking for quick fixes, encourage your customer service team to focus their time on delivering long-term solutions that will inspire and facilitate customer success. You should always be looking for ways to minimize back-and-forth interactions that feel repetitive and are likely to cause frustration for your customers.
Utilize The Right Customer Service Tools
A lack of effective customer service tools may be holding you back from unlocking the team's potential. Are the current customer service tools you utilize helping your team to simplify the overall customer experience? If they're not, you need to start thinking about applications that will enable you to drive streamlined communication for your customers.
Customer service tools can make or break your operation. With more customer operations and experience applications available to utilize than ever before, you have plenty of chances to find the right tool for your team. Ultimately, the tool must be able to streamline and simplify the customer experience, reducing the potential for there to be any bottlenecks.
StartingPoint can transform your existing operation into something far more streamlined and effective. This is a SaaS customer operations and experience platform designed specifically for service-based companies to improve their customer service. With a client-labeled interface, you can keep engagement straightforward with a single portal for all customers.
Workflow automation can play a significant role in speeding up your customer experience. With the support of StartingPoint, you can build out an efficient workflow to ensure customer needs are met. Customers can be given the opportunity to store important documents using StartingPoint's cloud storage facilities, adding another dimension to the communication.
Are you ready to utilize the right customer service tools for your firm? You should consider using StartingPoint to enhance customer experiences. Request a 14-day free trial today.