Article first appeared in Nanorep Blog on May 11, 2016.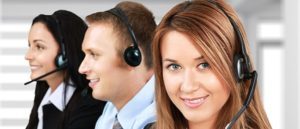 Call centers are often one of the most bustling hubs of a business, serving as the central point of contact between customers and the company. Call center agents handle myriad tasks from helping customers navigate the purchase process to technical product troubleshooting.
Many companies staff call centers with hundreds (even thousands for large enterprises) of customer support and technical support agents, often 24/7, who are available on a moment's notice to help customers solve challenges with your company, products, or services. Even the most well-staffed call centers at times leave customers lingering on hold – listening to a friendly message about how important their call is to your company, which just happens to repeat every few seconds. By the time their call gets to the top of the queue, they've been driven to the edge of madness.
This isn't ideal for customers or for your company, because let's face it: Staffing call centers is a huge overhead cost. Reducing call center volume (and therefore being able to cut down on the expenses associated with staffing and running it) is the ideal, but how can you make that happen?
To gain some valuable insights into the most effective ways companies can reduce call center volume, we asked a panel of customer service experts and call center managers to answer this question:
"What's the most important tip for companies looking to reduce call center volume?"
Find out what our experts had to say below.
Raymond (Ray) McKenzie
@RedBeachAdv
Raymond (Ray) McKenzie is the Founder and Principal Consultant of Red Beach Advisors and an Associate with the Predictive Group. With more than 15 years of experience as a senior business executive and consultant leading global organizations ranging from start-ups to large enterprises, Mr.
McKenzie has significant experience with business and departmental strategy, customer success and service, process development, project management, and operational excellence.
"The most important tip for companies looking to reduce call center volume is…"
To evaluate your product and service usability to determine inefficiencies within the product or service. Once you have uncovered the inefficiency, the company should improve those areas to reduce call center volume. By measuring, implementing customer success strategies, and evaluating customer
usage trends, behaviors, lack of product functionality, and unused features, you can identify areas of improvement to increase customer engagement and reduce call center contacts. Through my past engagements with Red Beach Advisors clients, I have helped my clients take a step back from solely
creating a support knowledge base online and ask, "Why are customers having these issues with our product or service?" Understanding the answers to that question will lead organizations to lowering their call center costs and reduce customer support cases.
The read the full article, go to http://www.nanorep.com/important-tips-to-reduce-call-center-volume