Original Article Posted: Cloud Apps Essential for Small Businesses on April 4, 2017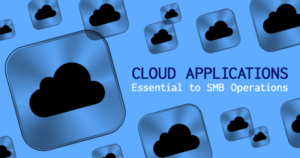 One major concern of cloud newcomers is worry over software services. You cannot rummage through physical store shelves in search of software titles for your business needs. Online software stores with click-to-install ease on PCs, tablets, and smartphones have made software acquisition far too simple — and selection far too overwhelming.
Relax. Your business app needs are just as easily met through your cloud provider and several third-party software services. Software as a Service (SaaS) tools are available for everything from small business accounting and human resources to email marketing and document storage.
Companies using the cloud tend to rely on an average of 16 cloud apps, according to Okta, which manages passwords and security. In a recent report, Okta listed these titles as the top five cloud apps:
Microsoft Office 365 is the same office suite for desktop and laptop computers used for word processing, spreadsheet, email, and presentation slides;
Salesforce is a CRM tool suite;
Box is a service for collaborating on documents and sharing files with access from all your gadgets and devices;
G-Suite, formerly called Google Apps, is a suite of office collaboration apps. The tool set includes email, a word processor, spreadsheet, presentation software, cloud storage, and calendar;
SAP Concur is a travel and expense report app.
Still concerned about finding software for your cloud operation? Do not worry. You can get everything you need for your SMB computing task from these cloud-based business app repositories:
Salesforce AppExchange provides a detailed list of SaaS apps designed for small- and medium-sized businesses.
GetApp offers a diversified catalog of cloud-based apps. It categorizes apps into handy groups such as CRM, Project Management, Help Desk, Human Resources, Email Marketing, Professional Services Automation, Billing and Invoicing, Field Service Management, and Learning Management System.
Assess Cloud App Suitability
When you review cloud computing solutions, you need to evaluate if those solutions are the right option for your business both now and in the future, suggested Ray McKenzie, founder and principal at Red Beach Advisors. "Always verify that data inputted into cloud computing solutions can be exported to other solutions if a change has to be made."
Another must-do preparation before adopting any cloud app is to make sure that the data it handles and stores is always secure. It is imperative that cloud computing environments be secure and compliant. This ensures the highest level of security for the businesses data and user privacy, noted McKenzie.
His management consulting group focuses on successful growth strategies. He also preaches the need for companies that use cloud computing solutions to review their service providers' security levels and compliance every six months. Cloud security is not an environment where you set it up and then forget it.
"Companies should also evaluate vendors to ensure their products and services are best of breed and fulfill the needs of the business. The ever-changing landscape of cyber security and appropriate solutions is important to have reviewed regularly," McKenzie added.
Cloud computing is exceptionally strong with some vendors because they have the infrastructure, intellectual knowledge, and resources to properly support their customers and their needs. This allows the vendor to manage the solution/software appropriately while providing lower costs to their customers.
The primary weakness of cloud technology is that most solutions do not fulfill the needs of all customers. Cloud technology cannot support every feature request by every customer. That reality may make some software solutions not appropriate for businesses, McKenzie advised.
Nevertheless, an SMB moving to the cloud has plenty to consider and even more to gain, especially when it comes to cloud-based business applications, whose selection, scalability and brawn are more golden goose than ugly duckling.
Original Article Posted: Cloud Apps Essential for Small Businesses on April 4, 2017