Originally posted on Smartsheet.com on October 27, 2016: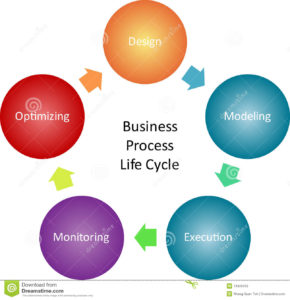 The Factors for the Failure and Success of BPR
Overall, the factors that cause BPR to fail are related to the approach being narrow and linear, and to the communication gaps that develop between the stakeholders in a project. Newer professionals stress a different emphasis on information system use for BPR, which lines up with how intrinsic IT is today in business.
Hammer and Champy, during the earliest wave of BPR use listed the following reasons that it could fail.  These were illustrative of organizational climates in the 1990s, but are still relevant today:
Trying to fix a process instead of changing it.
Not focusing on business processes.
Ignoring everything except process redesign (e.g. reorganization, reward system, labor relationships, redefinition of responsibility and authority).
Neglecting people's values and beliefs (need to reward behavior that exhibits new values and behavior).
Be willing to settle for minor results.
Quitting the process too early.
Placing prior constraints on the definition of the problem and the scope for the reengineering effort.
Allowing existing corporate cultures and management attitudes to prevent reengineering from getting started. (e.g. consensus, short termism, bias against conflict).
Trying to make reengineering happen from the bottom up.
Assigning someone who doesn't understand reengineering to lead the effort.
Skimping on the resources to reengineer.
Burying reengineering in the middle of the corporate agenda.
Dissipating energy across a great many reengineering projects.
Attempting to reengineer when the CEO is close to retirement.
Failing to distinguish reengineering from other business improvement programs (e.g. quality improvement, strategic alignment, right-sizing, customer-supplier partnerships, innovation, empowerment, etc.).
Concentrating exclusively on design (forgetting implementation)
Trying to make reengineering happen without making anyone unhappy.
Pulling back when people resist making reengineering changes.
Dragging the effort out (one year is long enough).
However, there is every reason to think that BPR will be successful when it is introduced to an organization today, regardless of the number of failed businesses and confusion that surround its use.    Regardless of the type of business, there are a few overarching factors that, with careful consideration, could guarantee a successful BPR.
BPR team composition – BPR initiatives need executive support, and teams that are carefully chosen with in-depth knowledge of either the business itself or BPR methodology.
Business needs analysis – The company's business strategy and long-term objectives should be taken into account during analysis.
Adequate IT infrastructure – The current IT should be capable of implementing the reengineered processes; IT solutions alone cannot transform the processes
Effective change management – The expectations, timeline, and business impact should be managed.
Ongoing continuous improvement – The only thing that is constant is change (Source: Heraclitus).
According to Ray McKenzie, Founder, Principal Consultant, and content blogger at Red Beach Advisors, "Business process reengineering and redesign is continuously needed within enterprises and organizations to re-assess a process' effectiveness along with identifying new, more efficient ways to perform daily functions. BPR is extremely valuable to companies that want to improve how they do business internally and externally and how they drive value to their customers. For any organization that is undergoing an implementation of process review or reengineering I suggest that companies incorporate supporting data points to measure the processes current efficiency and develop targeted goals for measurement. A business process that is implemented to improve workflow, but is not measured, is not an accurate process to be implemented. Measurement of performance and improvement is the key."
The Human Factor in Business Process Reengineering
Every discussion of BPR includes sections on processes and the IT aspects. It would be remiss however, to leave out the human factors. Any successful BPR project must take into account the people. Addressing the human motivational reactions to change is critical. It cannot be stressed enough that companies should ensure that their employees are suitably motivated and that they have the resources they need to learn about any new technology. Not only are the processes changing in BPR, but the way that people think and interact with each other must change as well. Finally, incentive schemes can be one way to ensure BPR success.